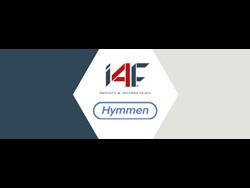 Hamont, Belgium, July 14, 2022 – I4F and Hymmen have received Notices of Allowance from the U.S. Patent and Trademark Office issued for the grant of two new U.S. Hymmen patents. The patents (granted on applications 16/494,308 and 16/494,309) cover digital embossing technologies providing improved embossing optics on panels.
At the same time, Hymmen also received a patent grant from China (patent number CN110290925B), covering aspects of Hymmen's award-winning DLEPlus digital embossing technology. All new US and Chinese patents are exclusively available through an I4F license and provide additional protection for Hymmen's advanced digital printing technologies on any type of panel material.
The new Hymmen patents are included in I4F's digital printing technology group covering advanced digital printing and digital embossing technologies. I4F's patent portfolio covers all relevant jurisdictions, including the United States, China and Europe, offering one of the world's most comprehensive digital printing patent portfolios for flooring offered. today, the company said.