Phillips announced Ex-Machina: a history of generative art, an exhibition and an online auction. Organized by Georg Bak, Ex-Machina illustrates the history of generative art, from the 1950s with the pioneers of computer art to the generative NFT artists of today. Featuring never-before-seen works by pioneers Vera Molnar, Hebert W. Franke and Gottfried Jäger, Ex-Machina also brings to market for the first time works by generative artists NFT Snowfro and Dmitri Cherniak.
A public preview of the highlights will take place from May 31 to June 17 at the Paris Phillips Gallery, rue due Bac, before a life-size exhibition from July 11 to August 5 at 30 Berkeley Square, London. The works will be offered in an online auction July 13-20 at Phillips.com. Prices range from £2,000 to £1.1 million.
"Phillips is delighted to bring so many historic works to market and this is the first time an exhibition and sale of such magnitude has taken place. In Paris and London, Ex-Machina will be on view for a combined month and a half, a conscious decision to allow audiences to engage and experience this unique offering. by Vera Molnar (Orders was shipped directly from his studio – a work of this scale and condition has never been released to the public market before. We are also delighted to have pieces coming directly from Herbert W. Franke and Eduardo Kac. The latter, from his Minitel series, have been acquired by the Tate Modern and the MoMA.


Benjamin Kander, Digital Art Project Manager, Phillips,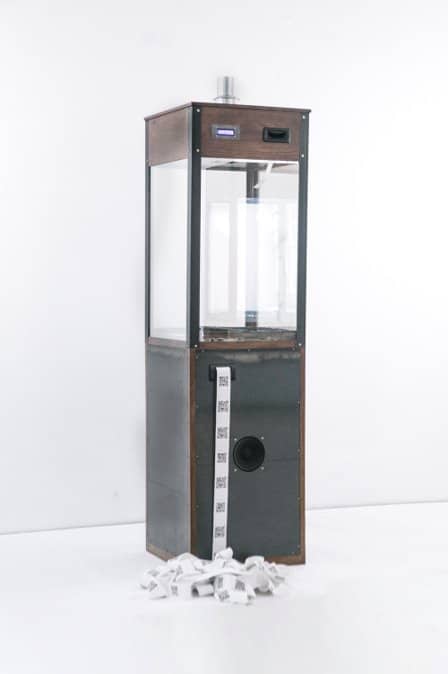 Ex-Machina features several historic and emerging works by generative NFT artists, bridging the evolution of generative art over the past 70 years. The most important digital work is that of Dmitri Cherniak Ringtones #292021, from the prestigious collection of the Narcissus Gallery and part of the artist's famous Ringers series. Ringtones #29 is only 1 of 4 out of 1,000 Ringers with an "extra green" point, and the first to be released since the project's release. Originally posted on Art Blocks, Cherniak used the p5js script to explore the concept "how many ways can you wrap a piece of string around a set of pegs". He worked on the algorithm for years, culminating in the release of ArtBlocks. Each work is unique in the sense that it only exists when the collector buys it. Their transaction data interacts with the predefined variables, producing very different works with unique characteristics.
Demonstrating the breadth of the medium and creativity in the generative art space, highlights include the chaos machine by Distributed Gallery, a collective of artists and engineers who create works based on distributed technologies, usually blockchain-based. The chaos machine is an Ethereum-based jukebox that is activated when fiat banknotes are inserted into the machine and incinerated. The jukebox playlist is user-generated and once active, it plays on both jukeboxes, regardless of their distance from each other. Once a banknote has been burned, the user receives a QR code which allows them to add another song to the playlist. Only two Chaos Machines were produced.
Paris Opening May 31 – June 17 46 Rue du Bac, Paris 75007
London Preview July 11-August 5 30 Berkeley Square, W1J 6EX
Online auction from July 13 to 20, 2022 Phillips.com/exmachina
Categories
Key words
Author
Marc Westall
Mark Westall is the founder and editor of FAD magazine, founder and co-editor of Art of Conversation and founder of the @worldoffad platform