Conquer the limits of the new dimension of technology
On
"I've always been interested in technology and manufacturing. I read a lot and often visited factories because manufacturing has always fascinated me. It was the time when 3D printing had just been introduced. Completely taken by the subject, I decided to immerse myself in it".
Early days
"I started my own company Form3D Solutions in 2015. I initially had the idea of ​​getting into the field of corporate gifts and artificial jewelry or working with architects. But it didn't take off.
Param learned that to make accessories, the materials used in 3D printing were not suitable. Plastic – Acrylonitrile Butadiene Styrene (ABS), the material used does not give the finish and detail required for such items. He realized the limits of technology.
"We were doing little things and struggling with the finish."
Something that even Param achieved was to move into making prototypes for the automotive components and electronics industry.
Build the business
"Our business model is now about providing end-to-end solutions to businesses. From the ideation, the computer design, the 3D printable file to the realization of prototypes, we offer all these services.
"In fact, we even manage suppliers for them. If a customer wants to test around 50 pieces in the market, we also do that. Small quantities make 3D printing viable. It is the large quantities that are not viable.
Future
"The first is scale. How do you scale it? At some point, 3D printing becomes unviable. It's the nature of technology. The second is that if the printers are not used for a week or two, things will go wrong. The technology still needs to mature. Then you have every Tom, Dick and Harry who will have a 3D printer, but what creates a professional finished product is the 3D printable software. Not everything will work. But customers often see such poor quality products that give 3D printing a bad name.
"About 10 years ago, Samsung introduced touchscreen Android phones. At the same time, a Chinese company made a cheap imitation. People used cheap stuff and gave touch phones a bad name. The same thing happens with 3D printing. The other issue is the cost. If your machine is not fully charged, you will end up spending a lot more. Nevertheless, the future looks bright. With an initial investment of Rs 10 lakhs, last year our turnover was Rs 25 Laths and this year we expect it to reach over 40 Lakhs.
Lower cost technology compared to the old casting method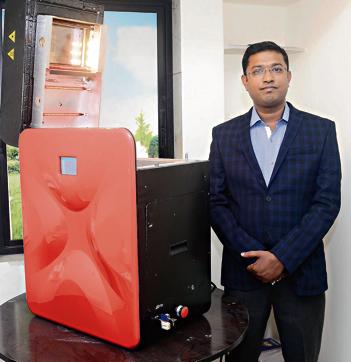 On
"I worked as a mechanical engineer at Thermax. My friend from Australia, Kiran Hurkadli, who was already in 3D printing, introduced me to the "wonders" of this technology. As we are both mechanical engineers, we were fascinated by this technology and sought to find out more. We took a trip to China to see how these machines worked. And we came back fully convinced of its capabilities.
Early days
"Our fathers created the company "Spectra 3D" to help us realize our dreams. When we started, we were very clear that we would focus on the automotive, electrical and electronics industry for their prototyping needs. But the problem with our customers was that most of them were unaware of the benefits of 3D printing. I realized that I had to educate people first.
"Although my friend in Australia runs a similar business which is thriving, it's because of the high labor costs. The situation is very different. labor is cheap here. But what these companies don't realize is that 3D printing is cheaper to make prototypes that often require multiple versions.
Build the business
Let's say a company wants to create a new design remote. Previously, it would be very expensive to do with traditional manufacturing. But what we need is the drawing on which a 3D file is created. This is designed around the PC board. And a newly designed remote control is ready. Want to make changes after printing? No problem.
With a 3D printer, you can make multiple versions at a much lower cost than the old mold and cast method. This is exactly what most companies don't understand.
"When they hear the material cost and other related details, they think it's too expensive. But when you compare it with the cost of making a mold, it's very cheap. When we're going to meet a customer, we spend most of our time educating them on the benefits of 3D printing for prototyping. After all that, about 20% to 25% of people are convinced."
Future
"I wish more large companies would get involved in 3D printing and educate their staff about it. There are some like Thermax, Atlas Copco who ask us to make prototypes for them. Of course, we have non-disclosure agreements (NDAs) and are very careful not to disclose their patented technologies. But these companies are very few. I wish more would. Some companies have invested in 3D printers like Kirloskar Brothers, M&M, but they are there to avoid technology leaks. It's a very sensitive topic, you see," Rohan added.
The 4D challenges facing the 3D industry
"The first is scale. How do you scale it? At some point, 3D printing becomes unviable. It's the nature of technology. The second is that if the printers are not used for a week or two, things will go wrong. The technology still needs to mature. Then you have every Tom, Dick and Harry who will have a 3D printer, but what creates a professional finished product is the 3D printable software. Not everything will work. But customers often see such poor quality products that give 3D printing a bad name," says Param
People are slowly turning to this technology. Param has different plans. "Although we haven't hit a crore in revenue yet (it's around 30 Lakhs), we are happy with the way things are looking. I intend to expand our service from design that can create good 3D printable files. And I also want to get into making 3D printable materials. It seems like a need that is not yet met. Rohan added