Finding the best digital art software needn't be a chore. While there's a huge selection of great-looking apps available for all budgets, ultimately only a small number of them are really worth your attention, and we've already identified the best options to save you a load of searching.
When you're looking for the best digital art software you need to decide whether you need a full-featured artistic workhorse that can handle pretty much anything you care to throw at it, or a more narrowly-focussed app that reflects your particular style. Naturally you can end up paying a lot more for the former, but with a more specialised package you may ultimately find yourself a little restricted if you feel the need to spread your creative wings a bit.
Whatever sort of digital art software you need, if you read on you're almost certain to find the perfect choice for you. We've found everything from free (but still great-quality) apps through to strong budget options and full-bore professional packages with professional price tags and subscription plans. Simply scroll down to find our recommendations.
If you're looking for some great typography, don't miss our roundup of the best free fonts. Looking for more design-focused tools? See our roundup of the best graphic design software. Alternatively, for art on the go, take a look at our pick of the best drawing apps for iPad or the best 2-in-1 laptops for creatives. And do remember to check out the Adobe Creative Cloud deals available right now.
The best digital art software available now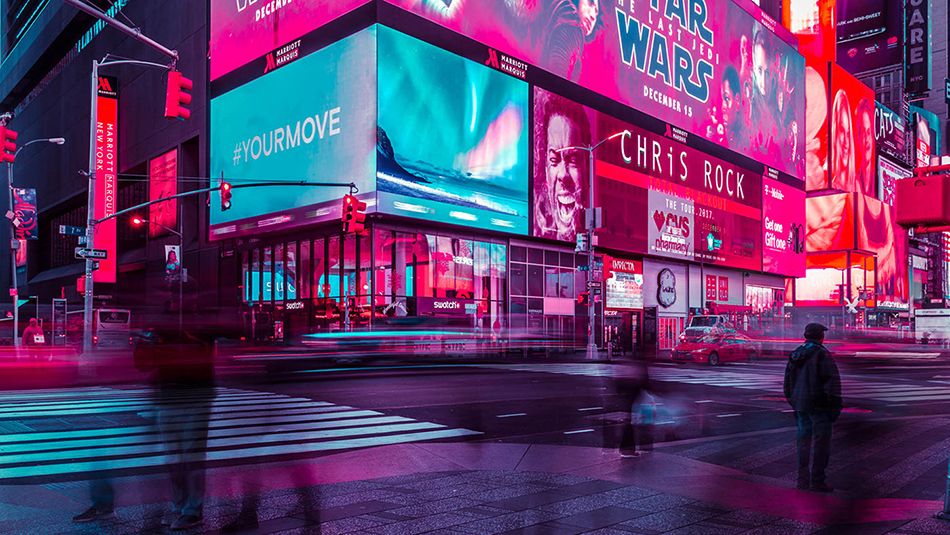 If you want an industry-standard tool set in a tried and tested package and don't mind paying a monthly subscription, Adobe Photoshop still rules the digital art roost. It's good for everything from photo editing through to drawing, painting and much more, and it keeps on improving with new features being added on a more or less annual basis. And if you have an iPad then its companion app is perfect for creating on the move or just away from your desk; see our Photoshop for iPad review for more details.
Because it's part of the Adobe Creative Cloud suite, you can easily share your data and access all of your assets – including brushes, images, colours and styles – across all of your devices. There's also an impressive library of Photoshop plugins available to add extra functionality to the program. Find out more in our Photoshop CC review.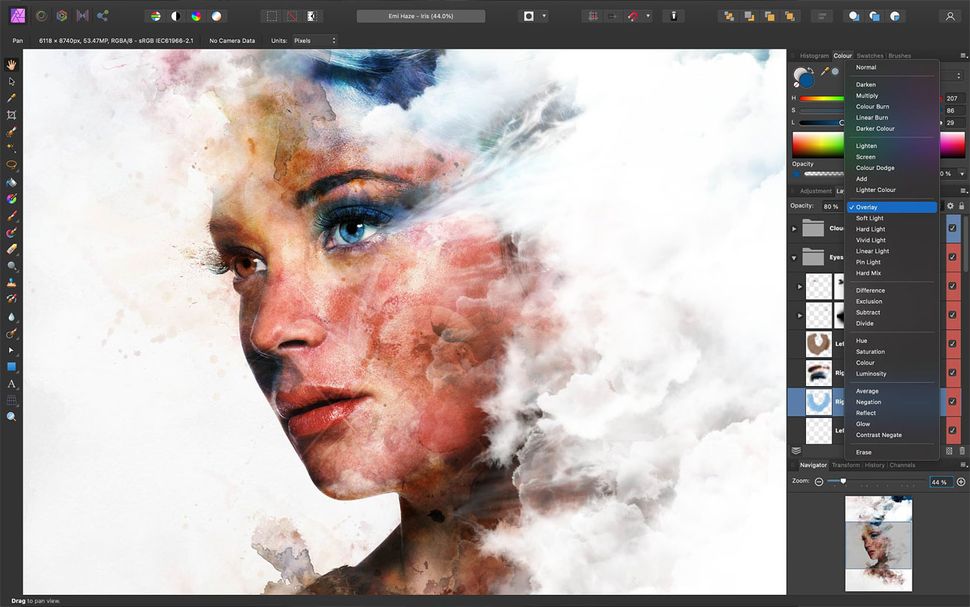 Photoshop's the de facto standard for digital art software, but these days it's found itself facing stiff competition from Affinity Photo, and it's easy to see why. Affinity's more or less comparable with Photoshop in terms of power and performance (although you may find yourself missing Photoshop's advanced features such as content-aware fill).
Affinity Photo's fully compatible with PSD files, it can cope with 100+ megapixel images, and it has pretty much all the effects, filters and brushes you're likely to need. Best of all, it's a lot cheaper; you can own your copy of Affinity Photo outright for less than you'd pay for three month's Photoshop subscription.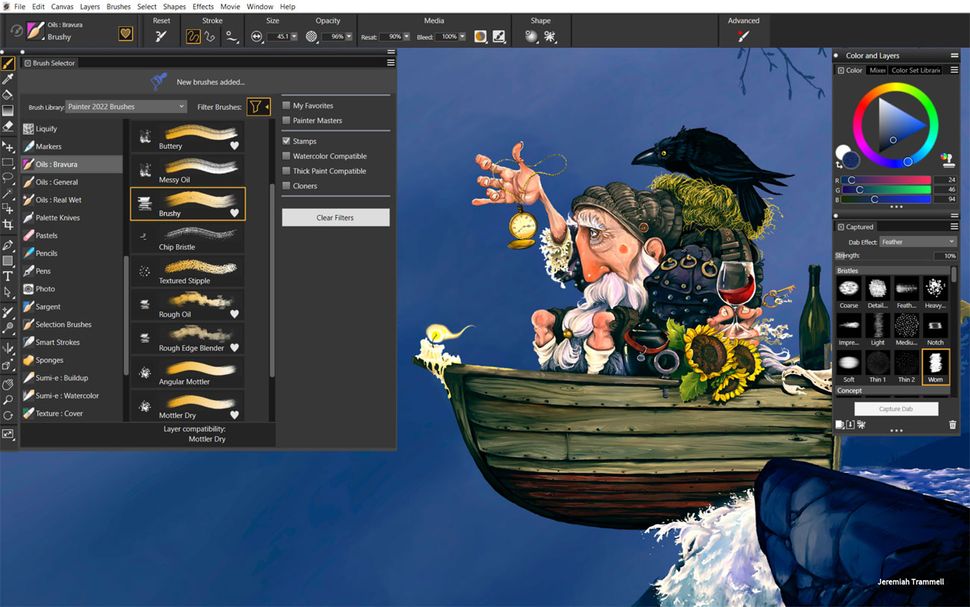 Corel can be relied upon to come up with the goods on a yearly basis, and the latest version of Corel Painter is no exception. The stand-out feature of Painter 2022 is its new stamp-type brush customisation, which give you fine control over the dab effects of your favourite brushes in order to make your work look more natural and less digital.
Painter 2022 also brings with it an overhauled and reorganised brush library that long-term users may well balk at, but once you get used to its new ways there's a lot to like about it, including alphabetised brushes in easy-to-remember categories with a filter search so that you can quickly find just the sort of brush you need in any situation. There's also a 'like' button so that you can organise your favourite brushes in your own custom palette.
GPU acceleration has been tweaked so that its new and enhanced brushes won't bring your system to a standstill; it'll also examine your hardware on startup and show you how well it's likely to perform and what upgrades and optimisations might help things run better.
Corel Painter 2022 costs $429/£359.99 or $229/£180 to upgrade, but when you consider that there's no subscription cost to content with, and that discounts on the software do pop up every now and again, it doesn't seem so steep. To get an idea of what's on offer, see our Corel Painter 2022 review.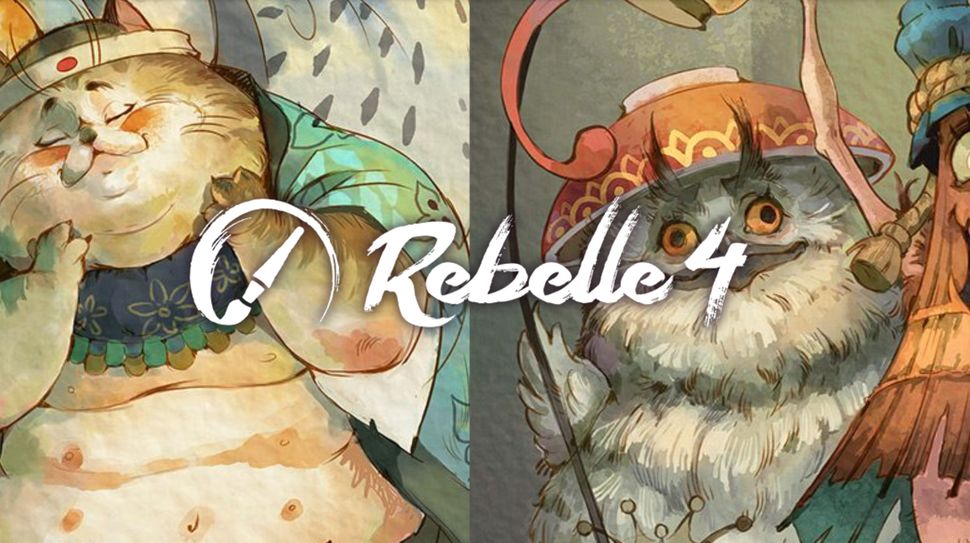 If Painter 2022's price is just a little too steep for you, Rebelle 4 couple be just the alternative you're looking for. It features over 170 brush presets and is designed to mimic the way that paint behaves in the real world, so if you're looking to create realistic-looking watercolours or oils with plenty of thick impasto effects, it's well worth checking out.
Rebelle 4's an impressive natural media painting app with plenty of useful upgrades from the previous version, including new stabilisation and texture features, natural RYB colour mixing, layer groups and colour management. If you need an affordable alternative to Painter that doesn't cut corners and feels authentic, be sure to take a look.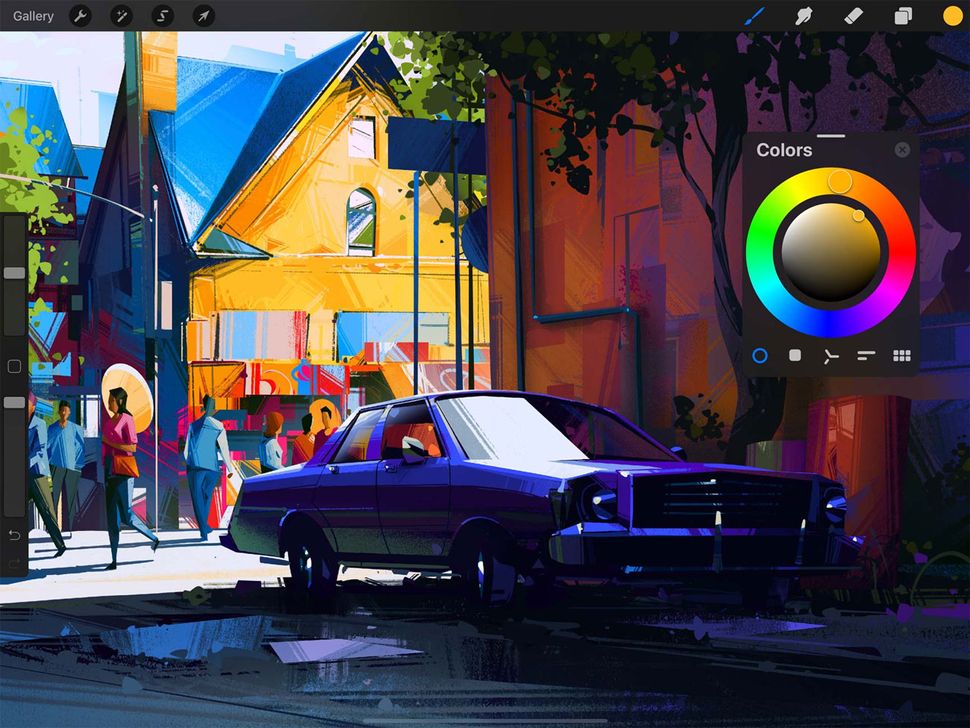 Want to draw and paint on your iPad? There's only one game in town, and that's Procreate. It's a seriously impressive drawing tool that's the go-to for a multitude of artists, and it's packed with powerful tools that make it a joy to use. You can work with hundred of layers if you need to, there are masks, blend modes and groups as well as over130 customisable Procreate brushes to play with, and its typography tools add a whole extra layer of creative functionality.
Procreate 5.2 should be along before too long and it ought to be worth the wait, with support for the M1 iPad Pro as well as 3D painting tools and AR previews, plus an improved interface and audio feedback for a better all-round experience.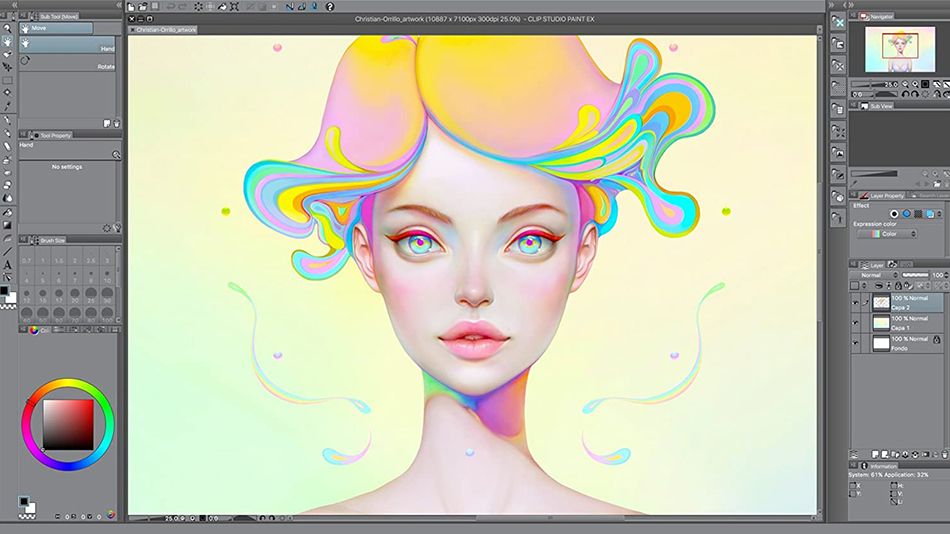 For manga art and comic creation, Clip Studio Paint is a strong option with plenty of satisfied users. It delivers a natural, traditional feel, complete with pen pressure detection to give you realistic-looking pen strokes if you're working on a graphics tablet.
Clip Studio Paint comes in two versions: PRO and EX. If you need all the features and don't mind paying for them, EX is the way to go, but if you just want to see what it's all about you can get started with PRO. Both are available in 30-day trial versions; take a look at the best Clip Studio Paint tutorials to help you get started.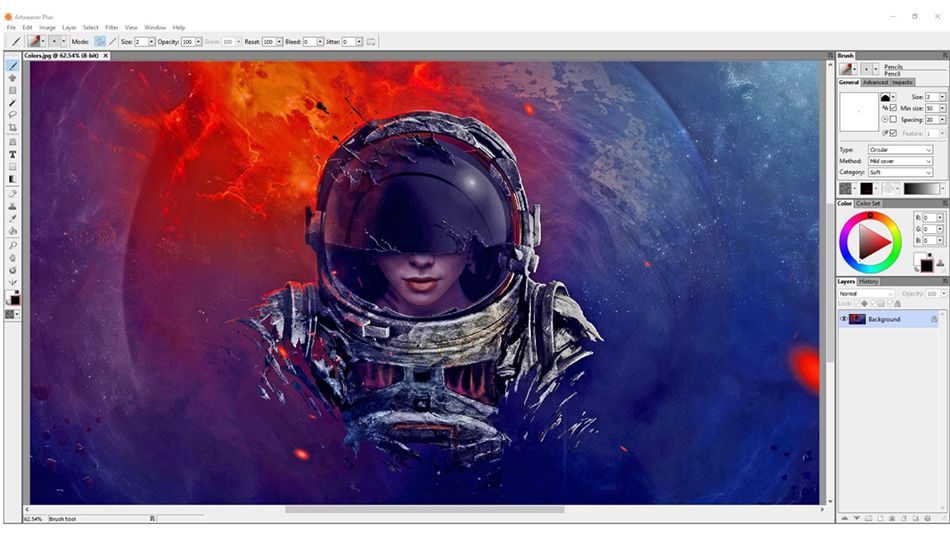 If you don't have much of a budget when you're looking for the best digital art software, Artweaver 7 is an attractive option. It features loads of customisable brushes for a real-world look, and it's easy to get to grips with, with a straightforward interface that you can customise to suit your needs.
Artweaver 7 comes in two versions: Artweaver Free and Artweaver Plus. Take a look at the comparison chart to help you decide which is right for you.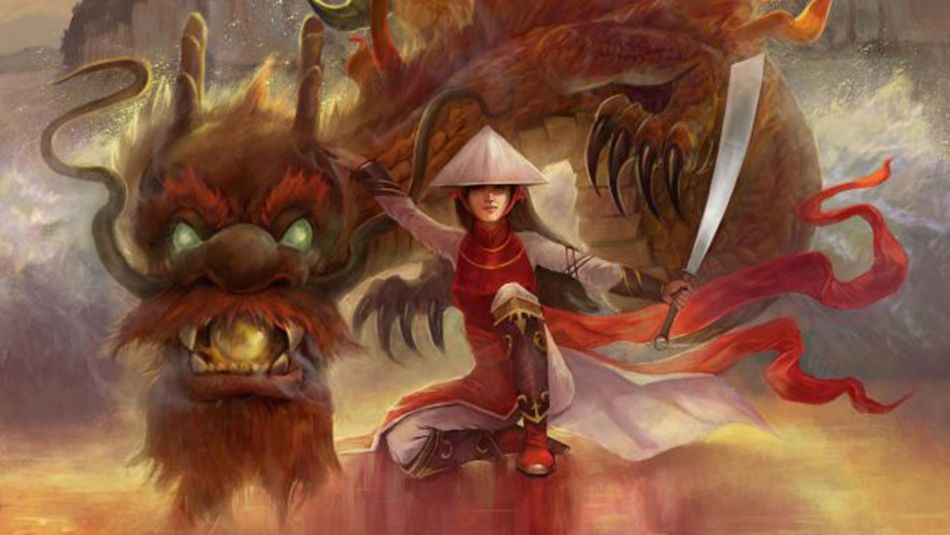 ArtRage has been around for quite some time and has built up a firm following among artists and illustrators, and it's easy to see why. It's another app that offers realistic paint texture and colour, at a price that's a lot easier to swallow than Corel Painter's.
Although ArtRage is primarily focused on natural media and painting, it's flexible enough that digital artists who are used to Photoshop will find it useful too. With ArtRage 6, you can do everything you'd expect from a digital art tool: customise brushes, record your own actions, customise the look of your canvas and more.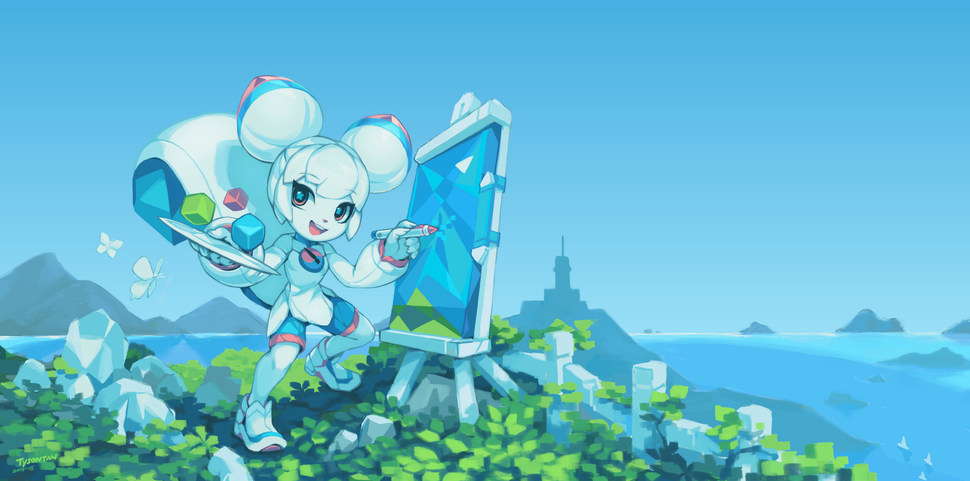 Krita has been quietly doing its thing since 2004, and it's one of the best-kept secrets in the digital art world. Free and open source, it has a great set of tools as well as an intuitive and customisable interface that you can set up in the best way to work with your style of painting. 
The tool offers over 100 professionally made, preloaded brushes and nine unique brush engines, including a Colour Smudge engine, Shape engine and Particle engine. You can also import brushes and texture packs or create and share your own. As an added bonus, you can use a brush stabiliser to help you get perfectly smooth lines.

Need literally all the brushes? Take a look at TwistedBrush Pro Studio: it comes with over 9,000 of them, which is probably overkill but means that you should always be able to find precisely the brush you need. And if you can't, you can simply create your own brushes instead. On top of its multitude of brushes, TwistedBrush has everything you'd expect from a digital art package: layers, transparency, masks, extensive options for import and export, image filters, and more. It also has drawing tablet support with high precision sampling and pressure sensitivity.
It's not a budget option, though; TwistedBrush Pro Studio will set you back $99 for a version-specific license, or $189 for a perpetual licence. For that price, it might be worth considering one of the bigger names.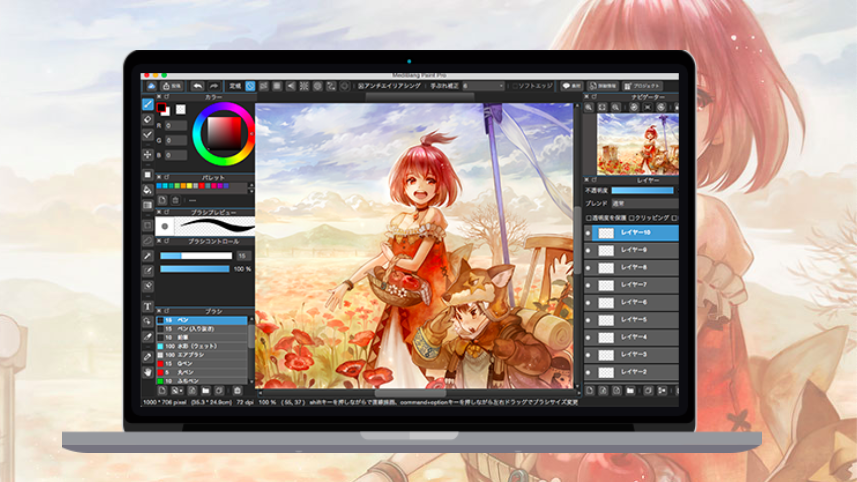 Looking for a free alternative to Clip Studio Paint for creating manga art or comics? Paint Pro from Japanese company MediBang is well worth investigating. It's a free and lightweight digital drawing tool that comes with 800 free pre-made tones and backgrounds, as well as over 50 brushes, easy comic panel creation tools and a massive selection of free fonts.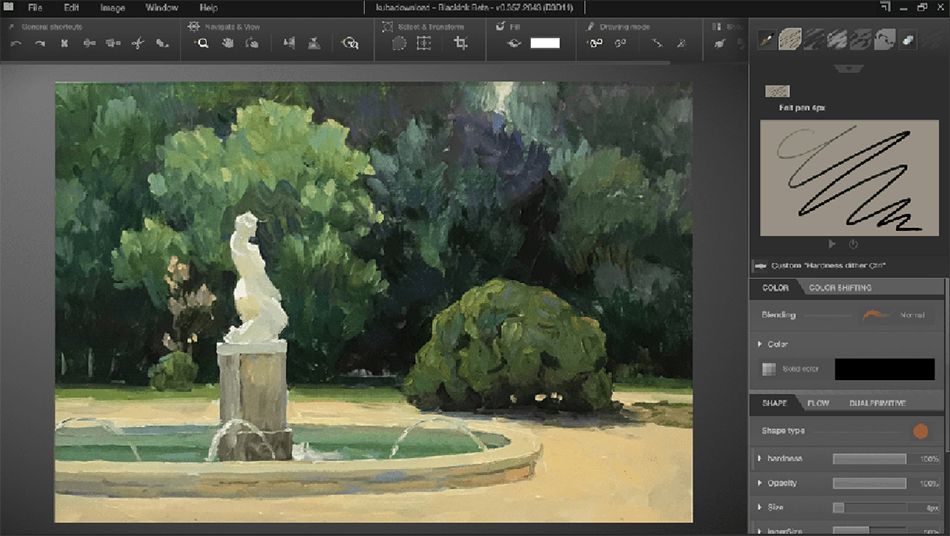 Not everyone wants realistic brushes, and if you need something a little different for your strokes then Black Ink could be the answer. Rather can copying traditional physical art tools, Black Ink takes a more digital approach and uses a Controller system to deliver all manner of possibilities in brush creation and customisation. Using a simple node-based language, you'll be able to create any type of brush imaginable, which you can then save and share with the community.

Paintstorm Studio is a great-value digital art tool that's easy to use and capable of impressive results. With a decent brush selection, complete with customisation options (including spacing jitter, texture, angle, and more) it's perfect for creating striking artwork, and it also supports stroke post correction, which can come in really handy when you're doing linework. 
The interface is easy to navigate and laid out exactly how you'd expect (and the default colour scheme is fantastic). However, if you're not a fan, it's completely customisable.
Read more: